The Present & The Future of Blockchain Technology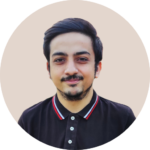 Summary: It all began with the booming hype of bitcoin, Ethereum, blockchain-and many other cryptocurrencies. Eventually, the rapid progress of blockchain made decentralization, data security, and online freedom a new wave of the digital revolution. The future of blockchain is brighter than ever as what seemed impossible with high transaction fees, net fraud, retrieving lost data, etc., is now avoided with the progress of technology.
Let's dive into the growth sector of blockchain, which is projected to reach $164 billion in 2029. In this blog, we have listed blockchain trends, use cases, and more, representing the potential of blockchain in the near future.
Introduction to Blockchain
Blockchain was introduced in the year 1991 as a worldwide record-keeping system. After the year of its introduction, the technology underwent many theoretical implementations. And then, the final practical representation did happen in the 2000s.
In 2009, an unknown group of persons under the pseudonym of Satoshi Nakamoto presented blockchain as a public distributor ledger. And after that, blockchain services have rapidly taken over the internet with its advancements.
What is Blockchain?
Blockchain is a readily accessible open ledger for the chosen parties. The main advantage of blockchain is that since it requires consent from all participants, the recorded information cannot easily be changed. A distinct identifying hash is used to create each data block. The chronological sequence of the data makes it easier to manage the shared information.
Key Benefits of Blockchain Technology
A transaction recorded is not altered or modified in the public digital ledger.
Encryption of data ensures information security
Ledger is automatically updated when any transaction is done
The decentralized system has no intermediary fees
Participants confirm and verify the transaction's legitimacy
Are you looking to deploy a successful app? Discuss your idea with us.
We will provide compelling market insights with the apt features, functionalities, & tech stacks for your project.
Get a free quote
Future of Blockchain Technology: Worldwide Statistics
The market for blockchain technology will reach USD 4.67 billion in 2021 and USD 163.83 billion in 2023.
The daily Bitcoin transaction per day as of 2nd April 2023 is at 341622.0
All these successful statistics show the potential of blockchain. So, many blockchain development services, too, help incorporate the best technological offering for any kind of business globally.
However, today blockchain services are used in varied industries to resolve several purposes, including some of the cases mentioned below.
Blockchain Use Cases
1. Smart Contracts:
These contracts are agreements between two or more parties without any intermediaries. It takes place across a distributed and decentralized blockchain network. Thus, such smart contracts are widely in use in healthcare, real estate, and government agencies.
Used case: BurstIQ
The platform uses big data-based smart contracts to transfer sensible medical data of patients and doctors. The smart contracts also specify clear outlines for data sharing to avoid mishaps. It also facilitates the personalization of health plans and other relevant information about a patient.
2. Internet of Things (IoT):
The IoT industry is growing quickly, providing connectivity to every device. According to Statista, there will be more than 50 billion devices globally with the tech trend. As the number grows, it also increases online vulnerability. The hackers can easily breach data via a single connected device. Moreover, one can protect the information by integrating blockchain technology into IoT devices.
Used case: HYPR
The True Passwordless Authentication feature of HYPR elevates cybersecurity measures by utilizing FIDO tokens and smartphone technology. Thus, by integrating decentralized credential solutions and biometric authentication, HYPR enhances the security of IoT devices and makes them resistant to tampering.
3. Money Transfer:
Blockchain enables fast transactions in real-time. So money transfers are safe and secure with it. It also saves time and money without any transaction fees charged by financial institutions.
Used case: Chainalysis
The money app uses advanced analytics and machine learning techniques. Seeing suspect links and patterns in Bitcoin transactions makes it simpler to determine who engages in unlawful activities, including money laundering, fraud, and financing terrorism.
Businesses and financial institutions can also benefit from Chainalysis Reactor's assistance in adhering to anti-money laundering (AML) and know-your-customer (KYC) laws.
4. Logistics:
Blockchain technology is integrated to track the goods for multiple locations extensively. The transparent representation of data also helps stakeholders to get a precise location of their goods. Also, it helps in the effective management of the supply chain and ensures the security of cash transactions. It also helps in avoiding delays, extra expenditures, and human errors.
Used case: DHL
DHL, the shipping company, is known for logistics. The company uses blockchain to record and track shipment details while maintaining transaction integrity.
Many other used cases exist in the entertainment, real estate, medicine, and digital media industries. Also, every sector is accurately using the advancement at ease in their preferences. Thus, it has indeed a long way to go.
After knowing the market prospects and used cases, let's dig into the current blockchain development trends.
Top 6 Blockchain Development Trends
Now and then, one question is always roaming in our minds: How will blockchain change the world? Let's walk through these blockchain trends and get a more profound answer.
#1 Central Bank Digital Currencies (CBDC)
The emergence of blockchain technology has disrupted the conventional financial system. Also, one of the latest developments in this field is the increasing acceptance of digital currencies by central banks across the globe. So such a trend indicates that banks are exploring the creation of digital coins that are similar to fiat money.
Recent data reveals 87 countries are eager to adopt Central Bank Digital Currencies (CBDCs). This growing interest can be attributed to several reasons, including the cost-effectiveness of virtual currencies compared to physical cash, the potential for reduced transaction fees offered by CBDCs, and the ability of digital currencies to facilitate financial inclusion.
#2 NFTs
Non-fungible tokens (NFTs) were introduced in 2021. These will also remain relevant in the future as the top blockchain trends as artists are auctioning huge amounts of money by providing digital works of art.
Also, the advancement has found new responses in the gaming and fashion industry. Brands like Dolce & Gabbana are selling their exclusive NFT collection of nine items via NFT. People across the globe love such an easy transaction. Thus, growing with the growing businesses has a much larger scope.
#3 Metaverse
Metaverse is a decentralized network of virtual environments where users can interact with each other through their digital avatars and participate in various activities, such as gaming, socializing, commerce, and education.
In the advancement, ownership, and control over virtual assets are entirely in the hands of users, meaning they have full control over their digital identity and data. Thus, this level of ownership and control is made possible by blockchain technology, which also ensures the security and immutability of data.
The concept of the Metaverse has gained significant attention in recent years, particularly within the blockchain community, as it offers a new way of experiencing and interacting with digital environments. The Metaverse has many possible uses, from social media and entertainment to e-commerce and education. It will also shape the future of the internet and how we interact with it.
#4 Blockchain-as-a-service (BaaS)
Blockchain as a Service (BaaS) is a cloud-based service model that allows businesses and individuals to access and use blockchain technology without investing in the costly infrastructure and expertise required to develop and maintain a blockchain network.
BaaS provides a ready-made blockchain platform that is accesible through an internet connection. Moreover, users can leverage the features and benefits of blockchain technology without the need for dedicated hardware, software, or technical expertise.
#5 eCommerce Development
Supply chain management is the most integral part of the eCommerce industry. With blockchain at its core, every online shopping business can achieve consumer loyalty and satisfaction in no time.
Apart from the supply chain, eCommerce platforms also use the advancement for the digital identification of users. Thus, it also helps grow the business and online social networking at large.
#6 Real Estate Development
With the apt use of smart contracts, transaction automation, identification of assets & properties, etc., blockchain efficiently boosts the efficacy of the work process in a real estate business. Moreover, real estate growth will demand blockchain to secure the database and transparent contract generation, making it an integral part of the business.
Expert advice: The cost to build an app differs highly on your trend selection, followed by the other development factors. So, wise and budget-friendly software development after knowing these trends is necessary.
Our Experience in Blockchain App Development
WebMob Technologies has been in the business for 12+ years. Our software development team consists of 120+ developers experienced in different tech advancements. With every passing tech innovation, we have evolved our development tactics and app development lifecycle.
There are many digital revolutions yet to come. Deploy your applications smartly with the possibility of updating them with every new trend, feature, tech stack, and functionality. Match the evolving pace of the tech world by investing in it with great minds like us.- Pramesh Jain, CEO.
Recently, our team of experts deployed an online trading analysis software based on blockchain technology. However, the platform is all about evaluating, tracking, and accomplishing trading objectives. Users can also set multiple goals, connect with brokers, calculate, import automatic trades, and more.
The web app is built seamlessly with an easy-to-navigate user interface and robust backend architecture. Thus, we create great apps with the best possible tech stack and feature integrations in your time frame.
Is There a Future of Blockchain?
Yes, indeed! Even after the recent Luna crypto loss, blockchain technology has survived. Its use has surpassed cryptocurrencies and bent into all the other major sectors. Fintech, eCommerce, supply chain, and real estate are the ones that benefited from their constant utilization.
Businesses rely on blockchain and its future as it ensures data reliability and security. And so, some of the best blockchain trends are NFTs, metaverse, BaaS, green initiatives, and more.
If you want to infuse blockchain technology's benefits into your business, adopt the innovation with us. Our team of experts provides apt insights for your project. Being an offshore app development company, we also have the perks of ready-to-launch software solutions, post-deployment services, app development in your time zone, and more. Invade the digital arena with our tech brains and your ever-growing online idea.
FAQs
1. How will Blockchain change the world?
Around the world, Blockchain technology is looked upon to eliminate major challenges related to cost efficiency, data security, transparency, and online reliability. All these are handled well with the advancement; thus, the world awaits more such technological innovations.
2. What is the future of Blockchain in 2030?
The global blockchain technology market will reach USD 1,431.54 billion by 2030, with a CAGR of 87.7% for 2023-2030. The tech invention thus has a long way to go.
3. When to use Blockchain?
Blockchain is widely used in real estate, digital media, medical, education, eCommerce, and more. It also tracks products, patient records, examination papers, property details, etc. Thus, it has a wide network to ace the digital space with the developments.
4. What are the perks of partnering with WebMob Technologies?
As an app development company offshore, we also deploy applications with perks like:
Easy communication
Post-deployment services
Development in your time zone
NDA sign-up
Ever-growing application
Subscribe to Our Newsletter!
Stay Updated to the Technology Trends for Every Industry Niche.