What is CRM in Real Estate? Benefits & Features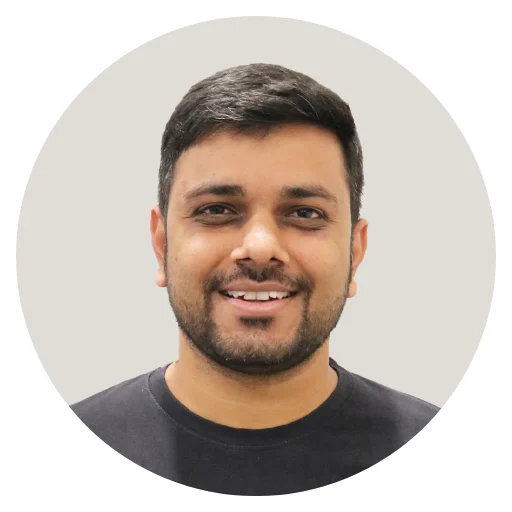 Summary: Customers are the driving force of every industry, whether online or offline. Because now, there has been major competition online as compared to offline. The ventures gear up to retain their consumer base. Now that there is an answer to everything in the digital world, how can it not help for such a big thing? CRM is the answer to it.
Customer Relationship Management is expected to drive tech integrations across industries. In this blog, we will learn all about one specific CRM use in real estate. Let's look at how real estate CRM is all set to grow the sales of the online realtor world. We will also see the benefits of CRM, statistics, and more. Dive in to know the exact state of CRM in real estate.
Introduction
The global CRM market size has seen huge growth. It is said to reach USD 145.79 billion in 2029, with a rise of 12.5% CAGR during 2022-2029.
What an increase it is, we might say! How has CRM grown this quickly? CRM helps in sales enforcement via geographic presence and data analytics. It helps to give the best user experience to the potential audience. It also monitors, organizes, and manages company operations to satisfy customers.
All over the world, firms strive to boost their market position and promote their brand. And for that, the urge to get to the targeted users is growing. CRM has a way to go with such a drastic change. The factors responsible for it are:-
Marketing tactic to get the right audience at the right time.
Study user behavior and analysis.
An urge for long-term relations with the users.
An edge over the competitors.
Now, let's get into the main topic. What is CRM stand for in real estate? How will it help your realtor business to grow? If you have clicked on this blog, you are eager to invest in CRM.
CRM for Real Estate: The Role
CRM, when adopted by a firm, is usually used by sales teams (80%), marketing (46%), and customer service departments (45%).
Now, in the case of a real estate CRM, it can be both: a strategic tool and software. It is easy for a real estate agent, broker, or realtor to approach potential clientele.
From your daily tasks to client pitches for the right properties, CRM has 360-degree services. It also benefits numerous lead generation campaigns, contacts, documents, contracts management, etc. One can schedule calendars, engage with clients, send emails and newsletters, and give insights on customer outreach.
A real estate CRM solution also tracks your listing management system. A realtor can upload a list of properties, brochures, stock lists, and other open home lists. Also, one gets buyer's feedback and vendor reports to get an overview of the business done yearly, monthly, or weekly. In other advantages, a CRM is accessible among business circles. It helps to store data and update it securely as and when needed.
What is CRM in Real Estate?
In the year 2022, the use of CRM has dramatically increased from 56% to 74%. 91% of businesses use the sales engine to obtain great leads and manage multiple projects simultaneously.
The CRM is steadily growing with real estate. It is designed for small, mid, and big-sized realtor businesses. Most real estate agencies achieve great success with the software as it has many benefits like:-
Real-time access
Data in one place
Quality leads
Workflow analysis
Zero lead leakage
Great lead allotment
Filters out bad leads
All in all, it is one of the best salesforce tools for realtors or brokers. One who is ready to invest in CRM should make all the efforts to engage their staff and make good profits out of it.
Benefits of Real Estate CRM Software Development
#1 Generate Potential Leads
The crux of CRM is to boost leads. How will you get accurate leads for your property? The internet is largely accessed by people all over the world. To track your targets, you will surely need a customer management system.
A CRM in the real estate industry allows agents to track genuine leads and deals. It helps in smart decision-making and sets plans for future leads. Now, how will you gather leads quickly?
CRM advances to integrate with other social media and sites to obtain better data. With AI, one can get leads by studying user behavior. New leads are found, and customer retention is done in a great way. Obtain organized data with automated detail bifurcation like demographics, time, ROI, and other lead-related factors.
You can customize your proptech development & grow your firm stably. As an experienced real estate app development company, we have been in the IT field for a while now. Our team provides commercial and residential business solutions. CRM, ERP, SaaS, MLX, IDX, and more are some of the techs we build. Get in touch with us for your requirements.
#2 Easy Document Creation
Handle all your vital docs in one place. CRM helps you out in a very smart way with it.
Real estate requires a lot of documents. There do arise problems like where to keep them safely. Where to place contracts and other legal details? How many times will you update a detail?
CRM stores and gives access to reach potential buyers and sellers quickly. It also simplifies the documents and secures the vital data within the system. Thus, there are zero manual entries to be made by realtors. From Esigns to automated documents, the real estate solution prepares and presents everything in advance.
#3 Drip Campaign
Market your services as much as you can. You have to be among the audience to obtain online goodwill quickly.
One needs a solid marketing plan to cultivate steady leads for the venture. What better than a drip campaign? You are not supposed to stop at 10 or 20. You will need to automate 1000s of emails or SMS at a time. And for that, you will need a robust CRM.
Get your marketing tactics straight and on time.
A CRM reaches genuine leads in a given time. It manages the drip campaign so that you can focus on your other tasks. And it gives a detailed analysis of the campaign and helps decide the plan ahead. Thus, it is an effective lead converter for online real estate.
#4 Automate Follow-up Tasks
We all lack in remembering things, don't we? How will it be if someone constantly makes us remember it? Awesome right? CRM in sales does that work easily for us.
Follow-ups are made easy.
You can easily check on good leads by sending reminders via notifications. One can also look into all the possible leads in one place. Thus, such tech allows us to visit and revisit potential clientele in real-time.
Note: CRM is the finest real estate app idea that gives small insights into customer engagement and retention. The solution has centralized data to get all the details in one place. And so, if you want a systematic approach for your realtor business, go for it today. It is all about reaching the right customer at the right time and in the right online place.
#5 Ensured Security
Who would not like a secure vault? Who will ever say no to an online place to keep data?
Loss or theft of data is a huge problem for any firm. As the world today functions on data analysis, one has to safeguard it. And so, when it comes to real estate, CRM is at its rescue. An agent has two ways to secure customer details.
One can allow role-based security as per specific user. You can also restrict access to certain records for unauthorized CRM users. Also, field-level access helps in securing data.
CRM also has a cloud facility. It integrates well with AWS Cloud and others for great security. You can easily store the user details and go ahead to share them with people of your choice.
Expert advice: An expert AWS development company can help you with CRM integration. Get in touch with one of such IT firms and avail of good online support for your project. These experts ensure that you get the best result for your venture.
#6 Manage Checklist
There are many long processes when it comes to real estate. When a person buys a house, an agent has to hand over the building policy, etc. As a realtor, one has to follow certain norms. Such a crucial task is managed easily by a CRM. You can feed in details or documents, get a reminder, or notify the buyer. Thus, it gives you mental peace as you have given details on time to the buyer.
#7 Integrate Marketing Solution
What if you can automate all your marketing tactics? And also, what if your customer profiling is achieved easily? From social media activity to web and email campaigns, all are managed under one roof. Get your leads, user insights, and more with CRM. No need to install other apps just to analyze other marketing tactics for your business.
So, now that you have got the benefits of real estate CRM let's get into the next important thing, features. Let's help you to get more productive with your CRM in real estate.
Features to Consider for Real Estate CRM
Consider these features for your real estate CRM software development. It will help you to create a checklist and ensure your project is on the right path. Also, you can easily compare it with your competitors and get going with the best possible ones for your online venture.
Intuitive Dashboard
We all want an overview of things that are going on in our firms, don't we? For that matter, the online world of apps has given us a great feature- The Dashboard.
The dashboard is where you will find every minute report related to assigned or pending work. Emails made, leads status, monthly/yearly commission, performance of employees, etc.
The details are made as per your needs. You just need to jot down what you would like to see at a glance and save time. During the SDLC meets of your real estate app development process, you need to discuss these points with your expert.
Manage Leads
Did you reach your targeted lead number? How many leads did you pitch for in a week? What is your total lead score? All the leads are well maintained in a CRM.
The most important feature for a realtor is to track down the leads. You can gather and manage every lead with CRM. One can also have a sales funnel to know the stages of their potential audience. You can assign each lead to capable agents and get good results out of them. Thus, quick lead analysis and assigning are possible with the help of such a real estate solution.
Deal Management
Are you not able to track your ongoing leads? Is there no other way to handle such deals? CRM is again the best way to keep track of every single client and deal made with them.
It is essential to know the status of ongoing deals. A good CRM is built to boost your sales. And thus, it is a crucial task to handle for software. Every deal's documents and process are organized in a CRM. Apart from that, a user can check on the following tasks:-
Track the status of the deal
Set up meetings with potential leads
Add and schedule tasks
Use details you got from deal cards
Visual representation of a sales funnel
24*7 customer service
Push notification to interact via email, chatbot, or Zoom-like communication channels
Also, a user can import details of a deal present in an Excel sheet into the CRM and export the ones in the CRM to Excel easily and quickly.
List of Contacts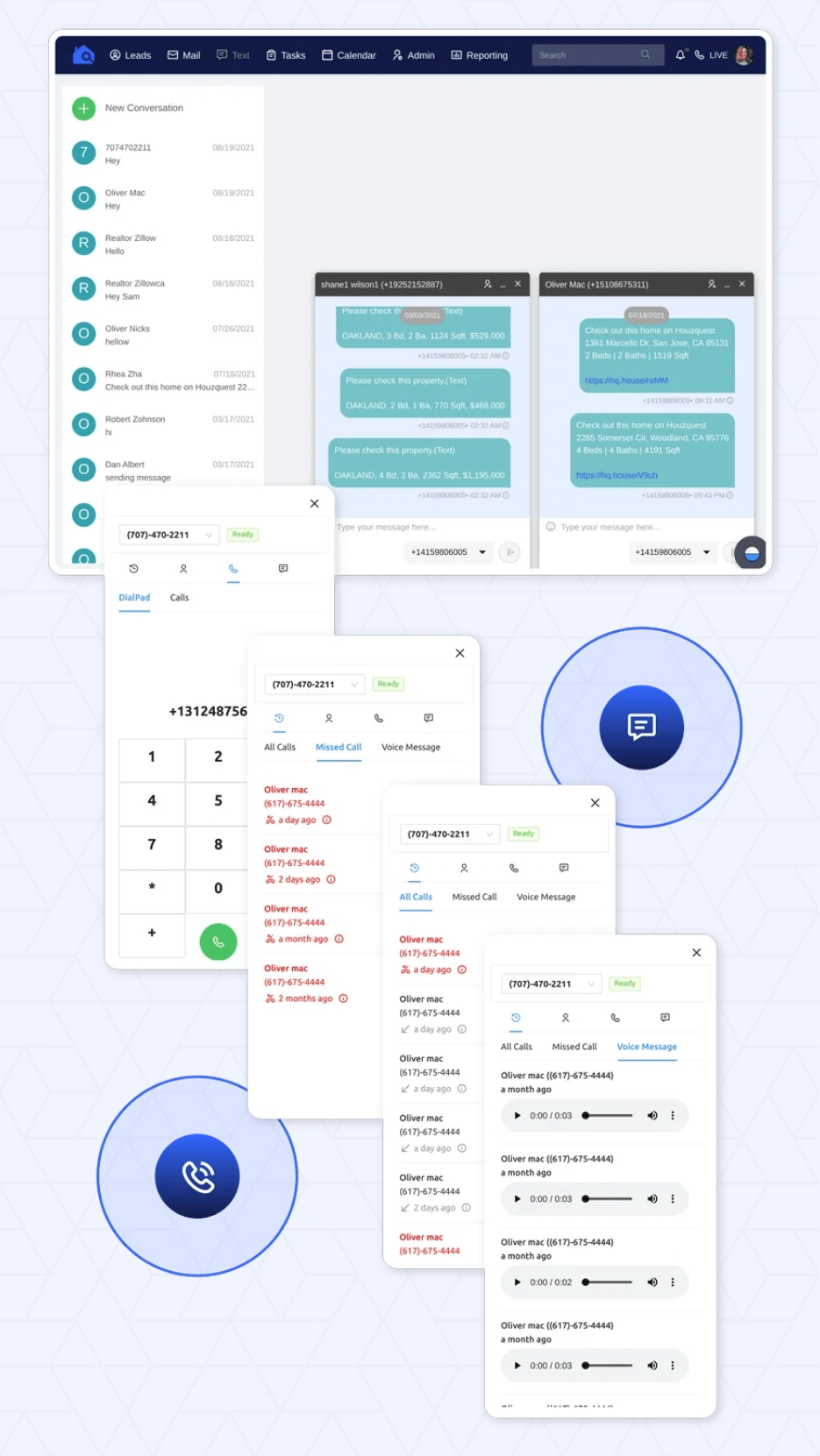 No more tedious work to look for contacts here and there. Place them all in one place- the CRM.
There are a lot of contacts that you, as a realtor, must be managing. Vendors of construction sites, brokers, partners, colleagues, and more. You have to be in touch with each of them as and when needed.
In the contacts feature, a realtor is allowed to view, create, edit, or delete a contact. Also, you will have a number of leads to follow with. And so, to make your life easy, you can have an automated list of contacts from your mail in a CRM.
Also, one can export and import a list from an Excel sheet or sync his own contact list. Safely store it in the CRM with all the other details.
Filters, Search Bar, and Sorting
We need to get things our way, right?! So for that, you can custom-make your CRM with filters and intuitive search bars and sort every contact or deal with it. It will save time and energy just browsing the whole solution.
Expert advice: You can also create tags to seek your contacts. Add such tags in your sorting feature of CRM and get a systematic overview of details.
Project Management
It is the best real estate CRM feature. A realtor is able to manage and control projects. It can give you flexibility like:-
Create and assign tasks to managers/agents
Drag-and-drop tasks as per their status
Sort tasks: priority, date, status
View particular tasks
Add notes
Add deadlines
Create Invoices or Bills
What if you can instantly manage, store, and create bills in a CRM? Great right?! It gives you such flexibility in hand.
Manage invoices and create new bills with ease in the CRM. Make invoices through templates and also save them for future use. Every bill is stored well in the solution for you to keep track of it on a later basis.
Generate Report
Juggling to get your hands on your daily reports? Are you not able to manage your details? CRM will do it for you.
Sales and marketing tasks do need daily reporting. You can create organized reports and customize them as per your favorite templates. All the created reports can be saved in the system, and one can also group them, filter it, or sort them as per the needs.
MLS, Social Media, Calendar
A book is judged by its cover. One needs to be among people to get a hold of them. Create new ways to be with them via CRM.
MLS, social media, and calendars will help you know your leads' whereabouts. Get more leads in less time and meet them at the right time with a good pitch.
Both custom and commercial real estate CRM facilitate third-party integrations. Build flexible software like Oracle CRM, Microsoft Exchange, and Office 365. All such efforts will help you to easily get your hands on your user activity and analyze them with a better pitch in the coming real estate deals.
Integration with the calendar is helpful for scheduling. You may create call invites directly in your CRM by syncing your calendar there, which will allow you to see when you have available times for calls.
Other Technological Integrations
What are you thinking about? You will need a tech blend to support your CRM. Pick one and be a leader. Let's dive in and get to know some of them.
The world of IT has a lot to offer with all the different tech stacks. AI, ML, IoT, AWS, and others help build great software for real estate.
You can include AL and ML to study your lead's buying patterns. Analyze your overall business with the help of the tech stack. Apart from it, integrate AWS IoT to provide your buyers with a secured home automation system.
As part of the IT world for over 12+ years, we have successfully delivered 500+ projects. Recently, our senior developers made a great effort towards revoluting home automation in real estate.
We created an MVP model using AWS IoT tech for the home automation apps. You can also include tech in the house or building you are about to sell. Our solution is all about remote controlling your essential home tasks like lights, theft notifications, door locks, etc.
Our Contribution to the Real Estate Solution Space
With 500+ projects in 25+ industries, we have come a long way through. Our team has been exploring many new genres and tech stacks since then. So, with real estate too, we have integrated AWS, MLS, CRM, IDX, and more.
Here is one of such project.
We have built real estate CRM software solutions to follow up on leads in real-time in a systematic way. It has a great UI/UX that helps manage real estate agent workflow effectively.
This online lead creation tool has a variety of features and functionalities. Right from a last lead inquiry to the detailed analytics of the last click on a property is all tracked by an agent. Every detail shared over the phone or in the mail is maintained for future use. A realtor can reach out and assist his clients in buying their ideal house. The CRM has it all!
Before ending the blog, let's get the gist of what CRM is in real estate and how it will help prosper your firm.
Custom VS Commercial Real Estate CRM: Which One to Choose?
Custom Real Estate CRM Solution
A CRM specifically designed for the real estate sector is known as a custom real estate CRM.
Custom real estate CRM is the best option if:-
Custom functions
It is great for mid or large-sized realtor firms
Integrate features as per your needs
Third-party integrates
Data security
Commercial Real Estate CRM Solution
A software company offers a CRM for commercial real estate based on subscriptions.
Pick a CRM for commercial real estate if you:
Wish to launch Quickly
Create a small team
Less features
Limits customization
On a Concluding Note!
Worldwide, the real estate market is all set to reach US$729.40tn by 2028. With such a boom in the online world, one will need backup support in the form of tech integrates like CRM. A CRM is the best and the most profitable software for tracking leads and insights on every business move. Thus, you will need such a supportive salesforce to excel in a competitive world. Invade the online space with the right CRM solution & expect potential leads and future business.
FAQs
1. What are CRM roles and responsibilities?
CRM means customer care. It helps raise productivity, organized workflow, systematic data representation, project updates, and more. This online sales tech is a 360-degree solution for all businesses.
2. What is CRM in real estate?
Real estate CRM software organizes and saves data on leads and customers. It also consists of contact and purchase history, personal details, and other social media integrates. It enables realtors to maintain relationships with prospects and clients over time. There may be a distinction between the two, but they cannot function without each other.
3. How many real estate agents are using CRM?
72.5% of real estate agents have a CRM tool for their realtor business. Thus, the software helps in genuine leads and profitable insights for the firm.
Subscribe to Our Newsletter!
Stay Updated to the Technology Trends for Every Industry Niche.