WebMob Technologies has been Featured as Top App Developers for the Second Consecutive Year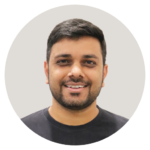 We are excited to announce that WebMob Technologies yet another time has been featured as One of India's Top B2B Companies in Clutch's press release. Clutch is an online ratings and reviews marketplace that collects data about specific companies in order to create comprehensive and measurable profiles that can be analyzed along with competing firms. Clutch creates these profiles using previous clients' experiences and testimonials as well as measuring market presence. Through the creation of numerous company profiles, Clutch enables B2B decision-makers to find the most suitable partners possible. We hope that our relationship with Clutch gives potential clients some insight as to the quality of work we can offer.
Being listed on Clutch offers massive benefits to our company including an immediate increase in marketing presence, potential clientele, and an accurate depiction of our competition within the market. In addition to this, Clutch's client testimonials enable us to reconnect with past clients, giving us a good idea as to what aspects of our services need to be improved.
Our goal is to go above and beyond our competitors in offering the best web and mobile app development services possible. To get to this point, we have relied heavily on our clients to provide us with the necessary feedback to grow as a company, so that we may offer potential new business partners the highest quality service possible.
When interviewed by Clutch analysts, here is what some of our customers had to say about the work we've accomplished together.
"What has stood out to me the most… with WebMob Technologies, is the skill level of their developers."
"WebMob Technologies was truly a collaborative partner throughout the process."
"They exceeded our expectations as the scope was larger than expected."
What makes WebMob Technologies different from others?
Well, from analysis to testing WebMob Technologies helps client understand the whole end-to-end business process. We already have set our foot in major industries like Finance & Accounting, Healthcare, On-Demand Delivery App, Social Media, Traveling and many others.
Keeping our partnership with Clutch in mind, we hope to soon find our way to being one of the top web and app developers within our respective market.
Want to develop custom web and mobile app? Contact us.
We are a company of tech geeks always ready for new challenges and innovations. Discuss your idea with us and become a renowned digital entrepreneur.
We are a team of experienced developers, designers, and managers to offer enterprise mobility solutions. Our constant communication, transparency, and agile methodologies ensure the success of app development.
Get a quote