Unify Your Software With Our DevOps Services & Solutions
WebMob Technologies provides full potential DevOps solutions that produce high-quality software applications. Our services are quick and transparent, enabling seamless cross-functionality, automation, and other deployment & support processes.
Accelerate Your Software Development Cycle With Us

Being a DevOps consulting company, we provide collaboration tools for robust automation & rapid deployment. We focus on producing solutions that generate real-time results with regular process improvements. This results in well-designed customer-centric applications.

The crux of our DevOps services is coordination between the software development team and the operational team. It enables the development of seamless infrastructure, monitoring, maintenance support, and time management. Our team helps solve resource optimization issues, reassign the load, and adjust the scale. We use tools like Jenkins, Docker, and Git to ensure the best quality coding and deployment. In a nutshell, the DevOps process is replacing incomplete code testing with robust deployment procedures for better online productivity.
Are you concerned about your software development? Consult our DevOps developers.
We have a proficient DevOps process to produce a highly customized and agile software solution for your business.
Our DevOps Consulting Services & Solutions
DevOps consulting
We leverage organizations with DevOps consulting services. It helps to integrate multiple teams by adapting the cloud-native technologies that increase productivity and reduces the workload and operational cost. Our DevOps services are the smart fit for any industry niche to achieve business goals.
DevOps as Service (DaaS)
This service is an efficient delivery model that sets a balance between the software development team and the organization. It consists of assessment and audit reports, roadmap & strategy design, consulting, and lastly monitoring & managing the backup of a solution.
DevOps in Cloud
We leverage your enterprise infrastructure and its management to boost IT operations. Our DevOps developers analyze and design cloud architecture, provide migration services, manage and consult the cloud services for cutting-edge software performance.
DevOps Serverless
Serverless computing allows developers to simplify operations. Our DevOps service consists of scalable architecture, simplified coding, maintenance, and consultation after the deployment of an application.
Rigorous Integration & Deployment
Our DevOps services and solutions empower organizations with assessment for continuous integration, deployment, and testing(CI/CD/CT). We use tools like Jenkins, Docker, and Git for best quality coding before deployment to increase the productivity and collaboration of the associated development team.
(Paas) Platform-As-A-Service
Our DevOps software development leverages organizations to get rid of complex IT operations with planning, strategy execution, and other managed services. The experts at WebMob, analyze your business to provide a comprehensive DevOps solution that's reliable yet cost-effective.
DevOps Microservice
Our microservices consist of an architectural pattern of composing a distributed application that is deployed on separate devices. The app specifically performs different business functions along with a communicative web interface.
Log management & monitoring
For a seamless gathering of data in one place our DevOps developers manage your logs and monitor them for an accurate database. This service helps in looking at the data as a part of a whole instead of a single entity.
Container management services
We provide container orchestration that allows adding or replacing a large number of software containers. Our team manages the containers with security evaluation and hardening as well as managing Kubernetes services.
Our Expertise In DevOps Services
End-to-End DevOps Implementation
The custom range of dynamic automation services, specifically to meet your industry requirements. It will make you stand out among other competitors.
Perfectly Managed DevOps Services
Full range of customized automation solutions for infrastructure allocation and management
Assessment & Strategy Planning
It enables agility across the teams for better communication and scalability of work quality in the SDLC(Software Development Life Cycle).
Tool Stack Customization for Pilot Frameworks
Innovative craftsmanship with handpicked tools to drive and develop pilot frameworks for more improved solutions by lowering the risk of failure with valid yet scalable measures.
Security integration
We use DevSecOps for end-to-end security integration through the security-as-code mechanism.
Continuous integration
We test-run every change made by a team member and integrate code into branches and also obviate merge conflicts & fix bugs at the earliest.
Why Should You Hire DevOps Developers from WebMobTech?
Continuous Release & Deployment
Our advanced DevOps methodologies enhance the development and deployment process followed by designing and testing. We deliver a bug-free and productive software solution.
Integrity & transparency
Every decision related to the application development is discussed with the clients. The feedback helps in improving the online user experience.
Result-driven approach
After you share your idea with us, the team checks its feasibility by running a quick marketing analysis and scope of the concept in the coming years.
Feedback & optimization
Our team considers the clientele inputs and feedback for high-quality application functionality online. We optimize the solution keeping in mind client & customer-centric views.
Non-disclosure agreement
Your idea is safe with us. At WebMob, we sign an NDA with every client to maintain the secrecy of the idea, coding, and every other technical integration done in the solution.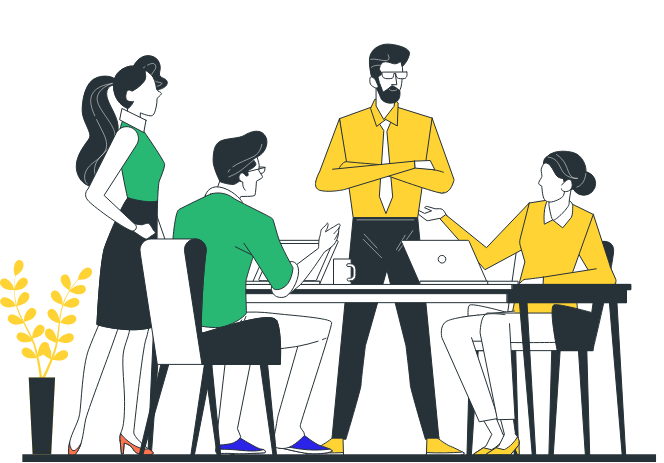 Schedule a DevOps assessment session with our expert developers
As we are a custom software Development Company in the USA, our DevOps solutions are researched and tested that connects a user with the brand.
Our Work
HouzQuest
Real estate listing mobile and web
application like Zillow & Realtor.com