AI-Hackathon 2023: WebMob Technologies Commenced on Revoluting the AI Genre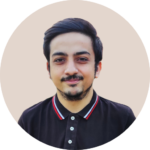 Summary: The digital world has given us wonderful gifts in the form of AI. With each passing year, artificial intelligence advances significantly. With Open-AI tools and recent advancements, AI has taken over the online world. To witness that, our team decided on an in-house hackathon. A 24-hour competition to explore new AI possibilities. Dive into the blog to know what we explored in those 24 hours.
The world of artificial intelligence(AI) has a lot to offer.
The passion for Open-AI tools got us all grooved to the technology. Being in the IT industry for 12+ years, we always strive to learn more. In the urge to learn, we decided to commence a 24-hour AI-Hackathon.
120+ tech brains, 7 ideas, & a 24-hours sprint.
It all started with the request for 120+ ideas through a form fillup. There were amazing app ideas, all based on AI. Every solution was addressed keeping in mind the current problems. Out of numerous ideas, our senior developers listed down 7 ideations.
The motto of our event was to drive creativity and motivation across the teams. The event also had the perks of joining it. We had monetary prizes for the first, second, and third-positioned teams.
Here are the insights and glimpses of that 7 ideas and the whole atmosphere of the office.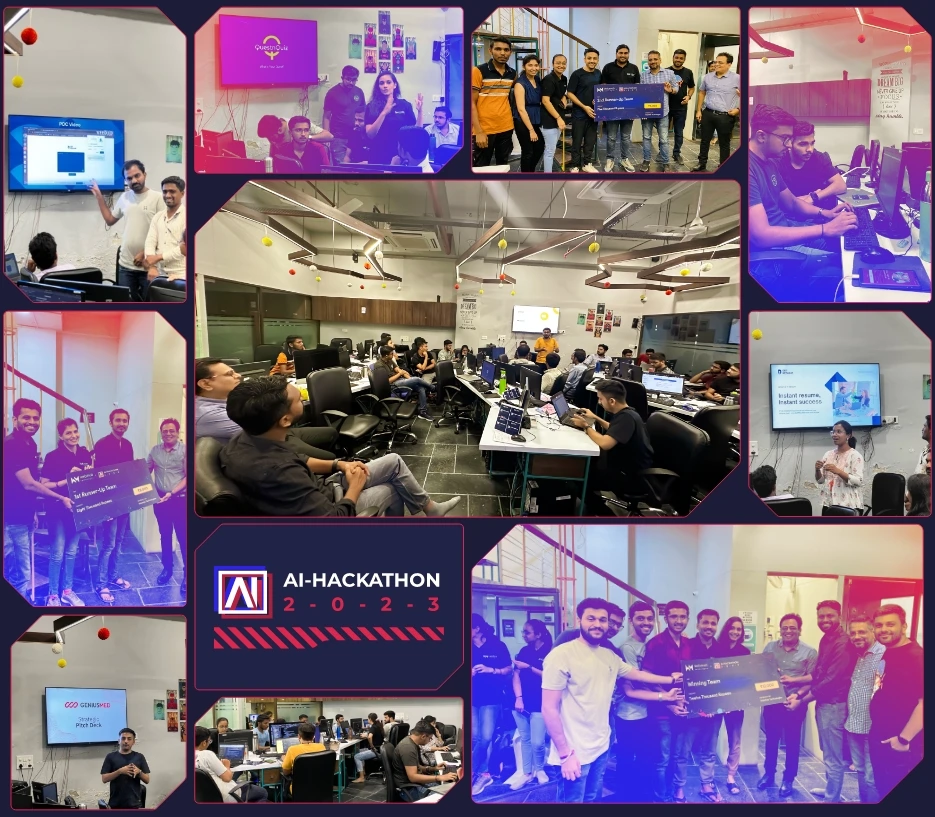 Some of the App Ideas Presented at AI-Hackathon 2023
Personalized Fitness App
Code analyzer
AI Healthengine
Resume Builder
Quiz/Exam App
Diet Planner
Training Task Scheduler
Personalized Fitness App
Again, a fitness app? Nope. It is an AI-powered application.
The fitness AI develops personalized training programs for each user. It optimizes sets, repetitions, and other activities. The app allows users to work from anywhere while receiving AI-assisted fitness instruction. It also records complete progress and tracks the goals seamlessly.
Code Analyzer App
As the name suggests, it is a code-analyzing tool. But what's new in it? How does AI help in it? A user can effortlessly write code in every programming language. It detects potential bugs, security vulnerabilities, performance issues, etc. It looks into all possible code quality concerns. The application functions on the design. It typically operates on the source or compiled code.
It also uses various techniques to identify the language used. For example, it may examine file extensions, keywords, syntax, etc.
AI-Health Engine
We all have different concerns related to our health, isn't it? This app focuses on providing users with preventive healthcare.
Before the likely appearance of diseases, it provides a possible cure. An individual gets a unique health ID to manage all the health records. The app responds to the submitted reports.
The AI analyzer suggests potential risks, remedies, etc., based on it. It also calculates BMI and suggests improvement by looking at the results.
AI-Resume Builder
It is always a pain to create and update a resume, isn't it? But what if, with AI, we can easily develop a resume?
It is the most demanding application for job seekers. An individual has to provide certain information. They have to list down details like role, experience, company, etc.
The app will automatically build a personalized resume. It also has a future scope of psychometric inputs and a LinkedIn profile.
Quiz and Quest App
It is an innovative take on a quizzing app.
The quizzing app's unique feature integration allows users to input keywords and difficulty levels to render an AI-powered quiz bank. It can be used in multiple industries & user groups. It includes HR professionals, students, professors, and more.
The AI-powered quiz bank helps users to prepare for exams in varied domains. It provides customized features for such preparations. The quiz app sharpens the brain for such important exams.
AI Diet Planner
The proposed system is an AI-powered tool that yields a complete weekly diet plan based on the user's age, gender, and food preference and, thus, promotes a healthy lifestyle. The personalized meal planning approach can help individuals achieve their fitness goals while retaining a balanced diet.
One of the standout features of this system is that users can select the range of calories they want to intake in a day. And thus, the AI will provide them with a list of possible recipes that align with their goals. It lets users stay on track while relishing nutritious and delicious meals.
Another innovative feature of the system is that users can click a photo of a raw food ingredient. The AI will fetch and provide full nutritional value, which also includes the macronutrient and micronutrient content. This feature can also help users make informed decisions about food. And thus, ensure they meet their nutritional requirements.
AI Task Scheduler
The AI-based productivity app has the potential to revolutionize task management and learning. The tool can also induce a personalized schedule plan. And thus, allows users to select their desired skill set or task.
This tool could benefit professionals and students in managing multiple tasks and deadlines. It breaks down tasks into manageable pieces. And assigns them to specific days. Thus, the tool can help users stay on track and progress toward their goals.
Tracking progress and rendering reports will also provide valuable insights into task completion. Users can use this data to determine improvement areas. And thus, adjust their schedules to optimize performance.
All these applications were showcased in one of the leading newspapers City Bhaskar. The journalists nicely covered the event. It was indeed a proud moment for us #webmobtechians.
On a concluding note!
AI development has a vast genre. Every business has ample opportunities to strive for a successful online venture.
Being in the industry for over a decade, we know the worth of artificial intelligence app development. And so, with the help of the AI-Hackathon, we know our creative minds and their capabilities. Such competitions bring a lot of motivation and ideas to help us expand in other directions. Stay tuned for more such fun & exciting things to read in this space. 
If you have an app idea, contact our dedicated app developers & get a free quote.
Subscribe to Our Newsletter!
Stay Updated to the Technology Trends for Every Industry Niche.