2020 in Review: Triumphing all the Odds
If you ever get a wish to reboot a thing in your life, most probably, you would like to reboot Year 2020 in your life and since you have the "great" experience of how things went you will surely like to remove all such things from your version to make it comfortable for living. But, here comes the limitation we don't have such superpowers of undoing things from our space of time. So, the best thing to cope up with whatever coming in your way is to FACE!
Above is an excerpt of the pool of thoughts which actually motivated mankind and genuinely helped humankind to go through 2020. Actually, it is a person's conception how we see things, despite all the odds, it was a year of transformation. The planet consumed by the COVID-19 pandemic led us to adopt lots of new things which ultimately deemed as "new normal".
2020, COVID-19 Pandemic & We, as a PEOPLE Company..
Well, that was pretty much World's scenario, when the year started COVID-19 was no more a pandemic. It was just a virus who is infecting China severely, the World didn't give a damn about it, and so do we. We concluded 2019 on a high note and we were literally in the hangover of the 2019 success, motivated and determined to inscribe new landmarks.
The Team WebMobTech is quite famous for their celebrations and we always have the burden to justify this tag as and when any occasion arrives. Well, actually we didn't miss to justify it in 2020 as well, when we had celebrated Uttarayan, Women's Day and Holi in the most amazing and crazy way (that is for the Holi only). Then comes the huge of all celebrations ie., Kar Har Maidan Fateh: WebMob Technologies Annual Company Trip to Mount Abu (yeah that's how we celebrate our success).
Things were racing at a rocket speed, when this damn COVID-19 thing started to hover over us (frankly over our planet earth). This Pandemic has altered our life drastically, routines were changed at a blink of an eye, like others we were forced to close our offices, backpack our stuff and march to our respective homes, and from then the distance between home and workplace was as much as the distance between bedroom to work desk. Our team actually showed great agility in adapting these "new normal things", no one had any idea how long it would take to get out of this remote situation.
Even in this remotest situation, We had lots of innovative ideas, and when it comes to celebration our class is simply unmatched, one can think and scale the rate innovation and the hunger of celebrating happiness by this in the very next month of the pandemic ie., April 2020, when no one had any idea for how look this pandemic going to impact everything, we had organized a "Surprise Award Ceremony" (obviously virtually), the list doesn't ends here, it goes on to much more the next to come were, WebMob Technologies 10th Anniversary, where we couriered gift and celebrated entire day with lots of cool virtual games,followed by HacktoberFest, the same thing goes to the Diwali oh sorry, Virtual Diwali! All these events weren't a one man job, we were able to achieve this just because of our very supportive other team members.
If we look back to 2020, it was not only about finding happiness amongst darkness, it was actually a very productive year for us, yes, very productive even during a pandemic. We were able to launch 10 new projects and that too some of them are in new technologies, and some of launches were celebrated by distributing project rewards.
Okay, enough of technical, let's flip to see the other side of the coin, we have done significantly good as far as technical is concerned, but we have done much better than lots of other peers in terms of fiscal and human resources.
Against all the odds, we didn't miss to grab the opportunity to represent ourselves in Dubai-GITEX 2020. The response we got from there was overwhelmingly positive. Exposure to the MENA region and consulting people on their startups and businesses was a really great experience. Our qualitative work has made us stand out among the community which results into numerous new clients and projects for the coming year.
The Pandemic situation, when imposed, was a grim situation, and the measures to cope with this were so quick and so silently done that no one got a chance to think about it. Everyone has their speculation yet no one thought that much worse outcomes. It was indeed a challenging time to manage a company with no hope of restoring normalcy in the coming future. The results were directly reflected in the pay scales of the employees, the salaries were halved, incentives were chopped, increments were halted, to add more salt to the wounds, many of personnel were fired from their jobs, yet amongst such adversities we hold our nerves tightly no such adverse measures were taken on any of the employee. Instead of such adverse steps, we had given project success rewards, conducted our Annual Award Show. The march didn't stop here, against the odds, when most of them were cutting their staff, we were busy expanding the team with the new faces. Indeed, that phase of time actually justified the phrase that goes, "There is a way, if there is a will".
Five Year Plan Policy
We have discussed enough of the past, but we can't live in the past forever, all we can do is to learn from it and move forward so with starting a new year, we have formulated a five year plan, which enfolds our vision and consists of various changes.
Career Development Path
We have restructured our organization and implemented some employee friendly new policies and all the WebMobTechians are overwhelmed with the given new perks.
Final Words
If we sum up 2020 in a word then we can say it was a "sinusoidal" year kicked off just like every new year and ended up on such an adverse note. It left a very deep impact on the entire humanity, which might take quite a long time to settle if we speculate the future from here after passing 4 months of 2021, 2021 seems like a ray of dawn, yet the sunrise to clear the darkness will take some time. It will surely take years to get things normal. The fight is not yet completely over and we have to keep resisting to throw out this unwanted guest from our lives.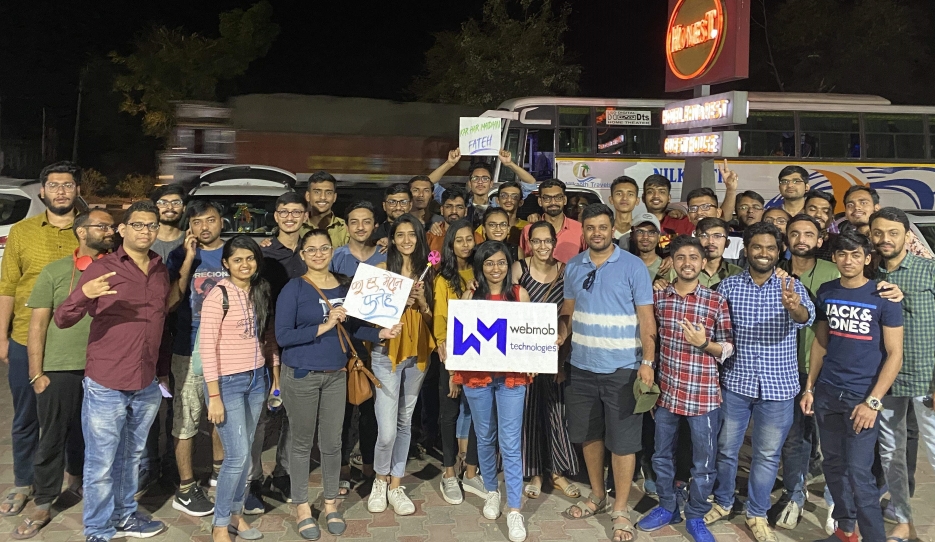 Experience our journey by watching a short video
Looking for an adroit team of developers? Hire us.
We are a team of proficient developers, designers, QAs, project managers, who are up for every technical challenge. WebMobTech believes in evolving with time and set some new benchmarks with time.
Consult us